Unique features
Dual ignition system
The only portable tankless water heater on the market to feature both "D" and 12-volt battery ignition.
12-volt alligator clips
Includes 12-volt alligator clips.
LED screen
Simple and precise display of water temperature and battery life.
Premium showerhead
Includes a superior quality On/Off shower head.
What's in the box
Water heater
On/Off showerhead and holder
Gas regulator for 20-pound propane tank
Female ¾-inch adapter for garden hose
Gas compression fitting
Quick Connect adapter
Teflon tape
Hardware set
2 x 12-volt alligator clips
Water pump
Strainer
2 x ½" hose barb adapters
2 x ½" threaded adapters
Customer Reviews
Amazing!
We bought 2 10l units with the 12v pump. The installation of the first one went great but couldn't get the unit to work on the second installation. After having a few conversations on the phone with Joel, we figured out the issue. It was me! Haha! Make sure you properly hook up the input and output of the water. It won't work if you reverse it! After that issue was figured out, it worked perfectly! The quick connect is a bit ****** as it's all plastic and hard to manage the leak but after swearing at the leak on the first unit, I just upgraded to a better quick connect from the hardware store. Other than that, enjoy a nice hot shower at a reasonable price!!!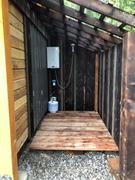 09/09/2022
Simon A.

Canada
Hot water on demand!!
Bought a unit last month for my remote cabin. Was not working first, but after talking with their tech, ended up a connector was plugged wrong. After correction it is working great and it is so great to be able to take a shower instead of diving in the cold lake!! Bought the bundle with the pump and gives me a lot of pressure out of a rain collecting barrel.
Game changer
This Onsen 10L portable propane water heater has truly been a game changer. We have been using it at our camp for showering and it works flawlessly. It was super simple to set up and I would highly recommend it.
Outdoor Shower
I was at a fishing camp in northern Quebec where I first experienced the Onsen shower system. I came home and built an outdoor shower house that turned into a spa nicer than my inside bathroom. We also have a washing machine on the same system. So inexpensive but so good.